On 29th and 30th May in 2018 our colleagues Dániel Andrési and Gábor Bárány Phd (from KEFAG Zrt) took part on an international conference which was organised by Kaszó Zrt. and the Forest Research Institute of NAIK in the framework of the KASZÓ-LIFE (LIFE12NAT/HU/000593) project.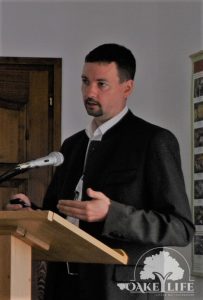 The main topic of the two-day programme was the role of the water in the forests. The presentations were about those practical methods and new possibilities which try to reduce the effects of the extreme weather conditions, due to the global warming at, for the forest ecosystem.
Our project manager got the opportunity to introduce the OAKEYLIFE project on this international conference. (click for his presentation)
Hereby we also would like to congratulate the hosts on the high-standard event.
(photos by Gábor Bárány, Dániel Andrési)