On 17 September 2018 we participated in the closing conference of the AGRÁRKLMA.2 (VKSZ_12-1-2013-0034) project in Lakitelek with two representatives of the OAKEYLIFE project, Dániel Andrési and Gábor Bárány. (KEFAG Kiskunság Forestry and Wood Industry Co.)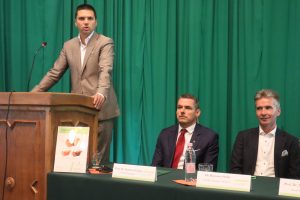 The aim of the project was to carry out basic research with a complex content, the results of which, on one hand, make it possible to predict the trends of the most important changes, mainly on a natural basis, but also economically as far as possible.
On the other hand, the results can serve as a basis for building a planned decision support expert system for the sustainable use and protection of natural resources for agri-economic operators and management organizations.
Márton Bitay, Secretary of State for Land Affairs, opened the closing event of the AGRÁRKLMA.2.