PhD Gábor Bárány, the project manager, held a presentation about the OAKEYLIFE project and its background work to some professionals who were interested in this topic on 20th April 2018 in Bugac.
The project manager gave some general information about the European Union LIFE+ fund, the tender possibilities and the experiences so far to the representatives of the Mecsekerdő Zrt. In his presentation he talked about the aims of the LIFE programs, which is a tool with which the European Union partly supports those projects financially which aim to improve the natural habitats on the territory of the EU in accordance with the environmental and climate law of the EU.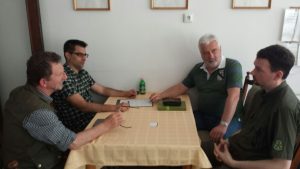 The project manager also talked about the OAKEYLIFE project. The Peszér-forest is a significant conservation area (HUKN20002), a calcareous sand forest habitat, which is the most diverse in species and natural habitats, in the Pannon biogeographical region. Then PhD Gábor Bárány talked about the aims of the project and its importance and uniqueness and also mentioned the achievements so far.
The Mecsekerdő Zrt. was represented by István Ripszám, Endre Burián, Tamás Kocsis and Miklós Szénási on the meeting. The forestry is assembling their own LIFE tender and they are planning to hand it in this year. So they found this presentation very helpful and useful.