The OAKEYLIFE press tour was organized by the beneficiaries on 11 November 2019 in Kunpeszér with the presentation of the newly established educational trail and the newly renovated forest visitor centre.
The three winning organizations were introduced at the visitor centre, and then the leaders of the program told us about the results achieved so far the educational trail boards.
Ferenc Sulyok, CEO of KEFAG Kiskunsági Erdészeti és Faipari Zrt. – the main beneficiary of the OAKEYLIFE program – emphasized the key role of the (the key specie of the program) oak in the project title in the project area. The CEO said how important the role of environmental education and awareness campaign was in the program.
Ferenc Sulyok also emphasized that, this is the first time, the state forestry, the national park directorate and the non-governmental nature conservation organization are cooperating in a large-scale forest habitat reconstruction program. He stressed that 450 million seedlings from alone state forestries have been planted in the last 10 years.
Sándor Ugró, director of the Kiskunság National Park Directorate, as the host of the Visitor Centre, said that the renovation of the former forest house was completed in one year – making sure that the characterictics of the main and the outbuilding did not change.
He said that as early as this year, more than 200 volunteers have contributed their work to remove invasive plant species from the Peszér-forest and thus ensure the preservation of natural values.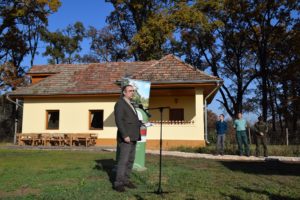 In his speech, Gergő Halmos, the managing director of the Hungarian Ornithological and Nature Conservation Association, the head of the non-governmental organization of the program, basically emphasized the importance and benefits of the monitoring activities, in which the data obtained so far will provide a basis for future comparisons.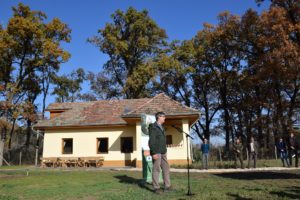 *
The Forest Visitor Centre is the starting point of the 4 km long, open-to-visit newly developed educational trail, which summarizes the typical stock types, species and natural values of the Peszér-forest on four informative boards. Walking along the study trail, everyone can gain an insight into the wildlife of one of the most valuable, species-rich representatives of the calcareous forest steppes that has survived to the present day.
Each of the three winning partner organizations emphasized that the successful implementation of the OAKEYLIFE program will be the first in Hungary to put forest management activities on a sustainable and economically sustainable scale in the scale of an entire NATURA 2000 area.
Kunpeszér, 11 November 2019
(photoes by Zsuzsanna Makra and Gábor Bárány)
*
Press releases after the press tour: